Hello Everyone!
Have you heard!? The Cricut Circle Swarm in Salt Lake City has been opened to the general public now!! Woot woot!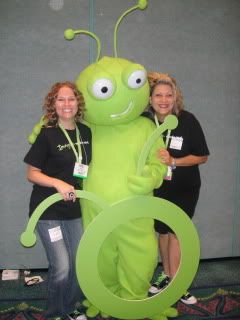 My besties and I are Circle members, but we have another close friend who isn't. She wants to be... but it's not in the budget right now (shhhh... Santa has it on his list!). So, now we are all talking about going! Can you say F.. U.. N..?!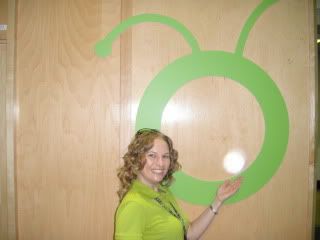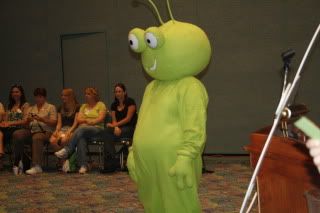 For those of you who don't know what I'm talking about, here is all the info:
Date
October 9, 2010
Time
9am to 9pm
Location
The Grand Hall at the Gateway
29 South Rio Grande Street
Salt Lake City, UT 84101-1151
Cost
$135.00 Buy Now!
Provo Craft is proud to host the inaugural Swarm! What is a swarm? A place for Provo Craft enthusiasts to gather and work on cards, layouts and mixed media projects while enjoying the company of other passionate crafters. ProvoCraft will have Cricut Imagines, Expressions, Cuttlebugs, and Yudus available during the event for everyone to use.
Four classes are available to everyone. The classes are:
Yudu
Provo Craft will be demystifying the Yudu Process. We will be showing everyone how to apply emulsion, burn a screen, rinse a screen, what 'spidering' is, the correct way to transfer an image to a transparency, using the new foil and flocking, the toddler platen, the sleeve platen, why you need a registration panel, and of course, screen print! We will have over 7 spooky Halloween images to pull on an item that you bring. Imaginisce will be on hand to blink out your pulled image with their i-rock tool!
Gypsy with Jennifer
Jennifer is the master at the Gypsy! She will be educating all on how to link a cartridge, updating your gypsy, how to delete a layer, converting a CDS file to a gypsy file, uploading a gypsy file, welding, and more! Jennifer will be providing Gypsy files after the class for all to upload! Oh, and if you do not have a gypsy, no worries—you will be getting one in your Swag Bag!
Cricut Imagine
Provo Craft will have Imagines set up for everyone to use during the swarm to enhance their cards, scrapbook pages, etc. We will have all the cartridges for you to play with during the event. The class will review all the facets of the Imagine product, especially how to incorporate regular cartridges with the Imagine!
Cricut Expression
Every wonder what the Center Point key is? How about the Line Return? Multicut? Autofill? Mix and Match? Portrait? Well this is the class for you! We will be reviewing all the keys on the Expression to enable you to use your Expression to its full capacity. We will also show you how to UPDATE your Cricut Expression!
Provo Craft will provide lunch and dinner at the Swarm from Le Croissant (YUMMY!)
Our Swag Bags are stuffed to the gills with a

Gypsy

, Custom Cuttlebug Folders and fun products from our partners.
Creative Xpress will have their store on-site for all your last minute needs and products for purchase
And we have amazing give aways—2 Scrapboxes (http://www.theoriginalscrapbox.com/), 4 Cricut Imagines, Martha Stewart Cake Machines, Cricut Cake Machines, Cartridges and more!
Tickets for the Swarm are available on the
http://www.cricut.com/
Website under the Special Offer Section.
Hotel accommodations and travel are not included in the price of the Swarm
So... who's going? I understand that Rita from the messageboard has organized a cricut dinner for those arriving on Friday night. Maybe I will see you all there?! These events are always so fun and are great opportunities to meet IRL (in real life) all the friends you have made online! While in Chicago, my bff, Angela and I got to visit with Jinger who is Provocraft's spokeswoman... she is just the sweetest gal ever! And so so talented!
The slumber parties in the hotels are the best! LOL! Doesn't matter how old you are (or I am)... a good ole' slumber party can still make you do silly things and giggle alot! Hehee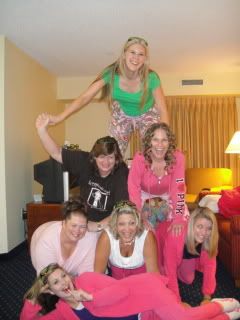 Ahhh... that was fun!
So, if you are on the fence about going to one of these events... hop off of it! Provocraft is always so generous in the freebies and giveaways... did you see that everyone is getting a FREE GYPSY!! Customized CUTTLEBUG FOLDERS!!! And more!? Wow... I have a gypsy already, but there are at least 3 people on my Christmas list this year who don't!! Now I call that a 'win win'! Purchase your tickets at
CRICUT CIRCLE SWARM!
Cricutingly yours,
Tammy