Hello Everyone!!
Did you know that the cricut and gypsy have made their way into BEST BUY stores all across America!? Yep... the Cricut Demo Army has been busy demonstrating the new bundle for weeks now. Provocraft and Best Buy have teamed up and bundled the Baby Bug & Gypsy together for only $299. To sweeten the deal, they also put the SUMMER IN PARIS seasonal cartridge in the bundle. Great deal for someone who is new to cricut.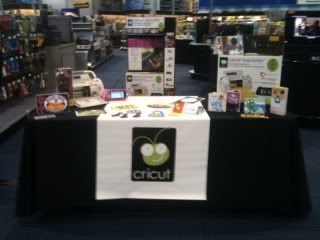 So, anyway... I personally am demonstrating the baby bug and the gypsy in two different Best Buy stores. Talk about funny! The demographics that we are demonstrating to are definitely the 'non-crafter' and are mostly made up of the 'techie-fans' who are amazed at what these little machines can do. My first weekend in the stores, I probably demo'd more to the employees of the stores than to anyone else! Here is how it went:
ME: Hi there! My name is Tammy and I am your demonstrator for the Cricut products in your store!
BEST BUY MGR: Great! We were wondering what this thing did! The pallets arrived 4 days ago and nobody knew what it was.
ME: Okay, (chuckling) just let me set up and I will be happy to show everyone!
(set up my display and started demonstrating the gypsy to the employees... I was surrounded, wish I had a picture of it, it was hilarious!) Next thing I know, someone from the Geek Squad approaches me...
GEEK SQUAD GUY: "They" say that you can make anything you want with that gypsy thing and then cut it out?
ME: Well, not quite anything, you are still limited to the shapes and fonts that are available on the Cricut cartridges and you must also 'own' the cartridge in order to cut with it. BUT... because there are basic shapes, most things can be made by welding shapes together or changing already existing shapes.
GEEK SQUAD GUY: Hmmmphf... well, can you make our 'Black Tie' Protection logo?

ME: Well... that looks easy enough... how about this: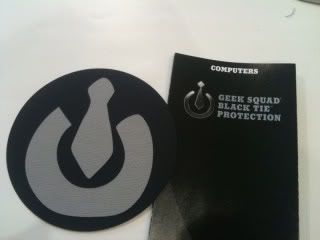 The tie is from PAPER DOLL DRESS UP and the open ended circle is actually the letter 'C' on it's side, shadowed both with a circle from GYPSY WANDERINGS.
GEEK SQUAD GUY: Hmmmm... okay... that was good... but I bet you can't make our GEEK SQUAD logo!

ME: Well.... give me a minute (I love a good challenge! lol).
The oval background was easy enough... found that on GYPSY WANDERINGS too. I didn't actually have white cardstock with me, so I substituted grey and believe it or not, I had black and orange cardstock. The word "Geek" looked like GYPSY FONT to me and it was pretty close...
... see the 'G' is a little different and so is the 'k', but I thought they looked good. Of course, the word 'squad' was cut using MICKEY FONT. What do you think? hehee
I think it would look better with the white cardstock instead of the grey and while it is not an exact match (therefore hopefully not breaking any trademark laws, lol), it would look great on a scrapbook page if my son worked for the Geek Squad or something.
GEEK SQUAD GUY: That's sweet! Can I have it?
ME: Thank you... of course, you can have it! (smiling & wishing we had really bet something! lol)
Naturally, I had to expand my new Best Buy cricut horizon and make the BEST BUY tag logo too!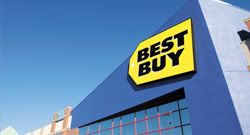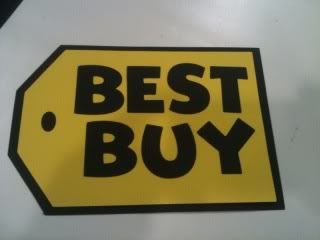 This one was easy... I took the tag from PLANTIN SCHOOLBOOK and made it shorter and taller, shadowed it with a black shadow and used good ole' MICKEY FONT for the title. Again, it is not exact, but I already know what scrapbook layout I'm going to use it with! I have pictures of my sscrubby & son waiting in line all night for the release of a new game! Hehee... I bet that there are several of you who could use this cutfile! Let me know and I will make the cutfiles available!
So, there you go... that is my experience at Best Buy with the Cricut. It was so much fun... can you believe we actually get paid to do this!? I've really enjoyed meeting so many people... both cricut fans and cricut newbies.
Come back tomorrow, because I am kicking off my WINTER WEDNESDAYS with the newly released CHRISTMAS CARDS Seasonal Cartridge! Warning though... you are going to 'need' this cartridge for your Christmas cards!
Don't forget to leave a comment
HERE
for a scholarship to a CARA MILLER Cricut class of your choice at
http://www.mycreativeclassroom.com/
! Winner will be drawn on Monday!
Cricutingly yours,