Hello Everyone!
Wow! I loved going to all the links that were left yesterday and looking at how everyone organizes and stores their ribbons! I really don't think there is ONE right way and hope that all these ideas can help someone. I personally have ribbons stored about 4 different ways... I know, I know... I just can't commit to just one! LOL!
Here is my second method:
The SPOOL & STORE system sits in my drawers.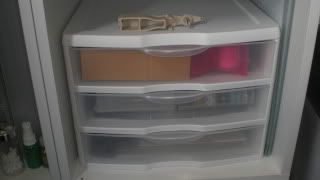 This is what the tray and dispensers look like.
It comes with this handy dandy ribbon rolling thing-a-ma-bob...
Here's a quick little video about what I think about this system and how to use that thing-a-ma-bob:
Click
HERE
if you cannot see the video above or if it does not fit on your screen.
To find out more about this little system, you can visit their website at
http://www.bestscrapbookshelf.com/
. I'm giving away a RIBBON BUNDLE this weekend and will randomly draw the winner from all the ribbon storage links that are located
HERE
. You can participate too, it's not too late!
Have a scrappingly great day!
Tammy