Okay... yesterday, I unpacked my suitcases, ran just a few errands, but ended up going to bed early! CHA really wore me out!
But here are just a few highlight clips I put together for your CHA viewing pleasure, just a little over 6 minutes long. Please forgive the french music... I've kinda been in that mood with Valentines approaching! LOL!
click
HERE
if you can't see the video
Thanks ScrapGuy for letting me film you! I highly recommend his blog... he is working hard and has some great things to share! Click
HERE
to visit him! And if you become one of his followers you can win some great BLOG CANDY!
Now on a personal note... many of you sent 'good luck' wishes last week to my youngest son Matt because he was defending his title a PIE EATING CHAMP while I was gone to CHA! I am happy to report that he won!! Again!! LOL! My sscrubby (that's 'Supportive SCRapbooking hUBBY' for those who don't know it!) was kind enough to send me a picture of the winning moment!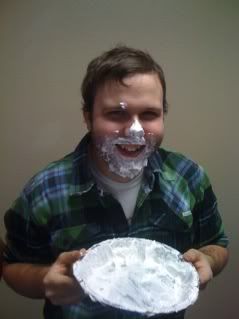 Well, that's all for now! Tomorrow is FAITHBOOKING at my church... I hope you have an opportunity to get into your crafting this weekend too!
Scrappingly Yours,
Tammy