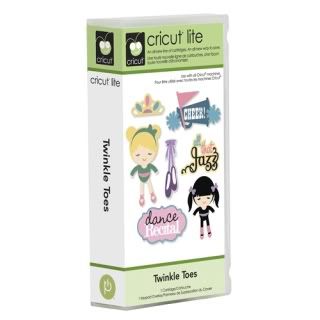 Hello Everyone!
I love all papercrafting and love using my cricut for so many different things... but the foundation of my hobby is scrapbooking. I've been doing it for 14 years and love it. I get really excited when I see an image on a cartridge that reminds me of photos or an event that I want to scrapbook. TWINKLE TOES has many great images, but the word art, "All That Jazz" stood out for me because I had just the event to crop with it! At first glance of the sample sheet below, you might even miss it... last image in the fifth row. Check out the tap shoes in the second row too... those two images were all I needed for the first page of my layout.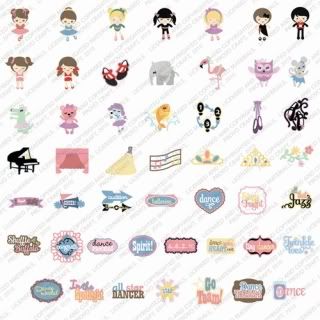 SUPPLIES
2 - 12x12 Red foil polka dot (Paper Studio)
1 - 12x12 Black/white herringbone (Paper Studio)
2 - 12x12 Black Core'dinations Cardstock
2 - 12x12 White Core'dinations Cardstock
2 - 12x12 Grey Core'dinations Cardstock
Catseye stamp pad - Cardinal Red & Black
Black Stickles
Clear Stickles
Photos
Musical Playbill
TOOLS
Cricut Machine (This project is Baby Bug compatible!)
Cricut Lite TWINKLE TOES cartridge
Paper trimmer
Adhesive
Pop Dots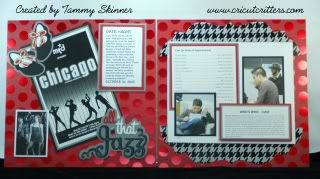 My husband and I started having 'date nights' with our children years ago. It was our way to have specific one-on-one quality time with each of them and also to teach them proper ettiquette and manners for when they grew up and started dating for real. We gave them a budget and they planned the evening, remembering that it wasn't always about what they wanted to do, but to be considerate of their date. My youngest son loved dates that included the arts, especially theater, and I loved it too.
One of our dates was spent in the college town of Denton, Texas, at the musical CHICAGO. It was a great production and was even more so because one of Matt's friends and fellow thespian, Michael, was performing in the musical. I kept the playbill to use on my scrapbook page below. The 'All That Jazz' song from CHICAGO is my son's all time favorite Broadway song, which is why it is perfect for this page.
'ALL THAT JAZZ' was cut at 4". I used black stickles to 'jazz' it up a bit.
'TAP SHOES' were cut at 3". Blinged the bows with clear stickles.
The second page of the layout has photos of Michael practicing his lines and pages from the playbill with his name and bio listed. The herringbone image is cut from TWINKLE TOES too. It is the base layer of the 'Dance Recital' wordart. I cut it out at 6.25" and then cut it in half.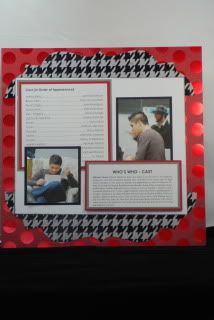 My Hello Thursday teammates have been busy with the new cartridges too!
Check them out at:
I'm giving away a ROCK PRINCESS Cricut Cartridge this weekend, just make sure you are a follower and leave a comment to be eligible... winner will be announced on Monday morning!
Cricutingly yours,
Tammy