Hello Everyone!
The new Cricut Lite JOLLY HOLIDAYS is definitely my favorite of all of this month's cartridges! Maybe because it is finally getting cold here in Texas and all the stores are putting up their Christmas decorations... so, I'm starting to get that warm feeling that means Christmas is getting closer! It's my favorite holiday of the year! Doesn't have anything to do with presents either... the only thing on my Christmas list this year is that my whole family get to be under the same roof for Christmas Eve! Looks like it just might happen too! My son-in-law is being transferred to El Paso, so he is bringing my daughter and their 3 dogs home for Christmas! My Army son is actually finishing up his enlistment and if his terminal leave is approved, he too will be home for Christmas (fingers & toes are crossed!)!
So, with everyone coming home for Christmas this year, my house is going to be busy! I love Christmas because I love all the traditions that go along with it! One of our traditions is baking cookies to give to the mailman, our vet, doctor, teachers and others who we appreciate. It's a family activity, sometimes we buy containers to put the cookies in and sometimes we make them. This year, we are making them and we are using this cartridge to do it!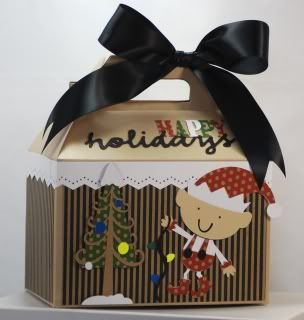 Happy Holidays!
SUPPLIES
Plain kraft gable box
1 - 12x12 Black & Kraft Ribbon Stripe
1 - 12x12 Kraft & Red Mini Dot Reverse
1 12x12 Kraft & Green Mini Dots
1 12x12 White Core'dinations
1 - 12x12 Black Core'dinations
18" Black satin ribbon
Permanent markers (black & blue)
Yellow slick paint
TOOLS
Cricut Machine
(this is a perfect job for the baby bug too!)
Cutting mat
Cricut Lite JOLLY HOLIDAYS Cartridge
Martha Stewart border punch - ZigZag
Scissors
Adhesive
Pop Dots
'HAPPY HOLIDAYS" cut at 2"
"CHRISTMAS TREE" cut at 5"
'ELF STRINGING LIGHTS' cut at 5"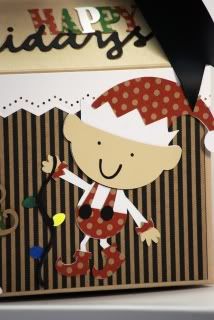 The tag actually has a tag shape that I chose not to cut
because I wanted to use it more like a label than a tag.
"TO/FROM TAG" cut at 2.5"
I just love this stocking... so fun and oh so easy!
"STOCKING" cut at 4"
I love decorating gable boxes and they make the cutest containers for all sorts of homemade goodies! Here is one of the gable boxes that I decorated for cookies last year...
Used HELLO KITTY GREETINGS & HELLO KITTY FONT to decorate this box.
I haven't picked out this year's cookie recipe yet, but last
year's cookies were these yummy Chocolate Cherry Cookies:

CHOCOLATE CHERRY COOKIES
Ingredients:1 cup butter
2 egg
3 cups all-purpose flour
1/2 teaspoon salt
1/2 teaspoon baking soda
1/2 teaspoon baking powder
2 cup white sugar
1 cup unsweetened cocoa powder
3 teaspoons vanilla extract
1/2 cup sweetened condensed milk
1 cup semisweet chocolate chips
1 (10 ounce) jar maraschino cherries



Directions:

1. Preheat oven to 350 degrees F (180 degrees C).
2. Beat butter and sugar. Add egg and vanilla and beat well. Add dry ingredients and stir until smooth.
3. Roll into 1-inch balls about the size of a walnut (larger if desired). Place on ungreased cookie sheet.
4. Drain cherries and reserve juice. Press center of each ball with thumb. Place a cherry in indentation.
5. In a saucepan, heat condensed milk and chocolate chips until chips are melted. Stir in 4 teaspoons of cherry juice. Spoon about 1 teaspoon of mixture over each cherry and spread to cover cherry. (More cherry juice may be added to keep frosting of spreading consistency.)
6. Bake for 10 minutes. Makes 2 dozen cookies
My Hello Thursday teammates have been busy with the new cartridges too!
Check them out at:
I'm giving away a ROCK PRINCESS Cricut Cartridge this weekend, just make sure you are a follower and leave a comment to be eligible... winner will be announced on Monday morning!