Hello Everyone!
Are you a 'dog lover' or 'cat lover'? Maybe you are more into birds, fish or reptiles? Well, the Cricut Lite FOUR-LEGGED FRIENDS cartridge has it all for the PET LOVER! Not sure I agree with the title "Four-legged", because there are several two-legged or no-legged (lol) pets too!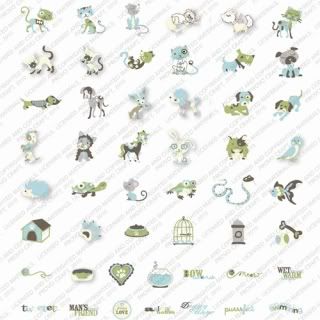 My project is actually an acrylic box that I recycled... my son's new bluetooth came in it. My whole family saves the clear acrylic packaging for me because I love to cut it in my cricut and use it for all sorts of things like windows and tags, etc. But, this box didn't need cutting up because I knew it would be great repurposed as a crafty gift!
Acrylic gift box
Paper scraps
Ribbon
Pink Ink pad
Brown ink pad
Adhesive
White Ribbon
Doggy Treats
Martha Steward Doily border punch
POODLE cut out at 4"
Background frame from TWINKLE TOES and cut at 5"
My stamped sentiment is from My Pink Stamper's MORE-PUNNYLICIOUS stamp set!
I can't remember where this poodle paper came from, but it is a perfect match to the poodle image on this cartridge!! Isn't that so cool!
And of course, that is my favorite Martha Stewart punch. I am actually on my second one, because I wore the first one out. I'm so thankful that my Cricut cartridges will never wear out.... as long as I take care of them, they are forever and ever!! Think about that next time you complain about spending $20-$50 dollars on a cartridge, but don't blink an eye about buying a $24 punch set. I have over 200 cricut cartridges (yes, I'm obsessed), but I know that they have all already paid for themselves because I share them at my crop groups and retreats.
My Hello Thursday teammates have been busy with the new cartridges too!
Check them out at:
Cricutingly yours,