Hello Again Everyone!
My next favorite is definitely the new WRAP IT UP Cartridge! This cartridge is definitely a 'go-to' cartridge for those special occasion projects.
Provocraft is stepping up the game in how the images are stored on the cartridge too. Each 'column' on the keypad represents a different occasion...
Makes it really easy to find everything! You will also find that the handbooks look a little different too. Looks like Provocraft is really trying to make it easier for people to find the different images. Thanks PC!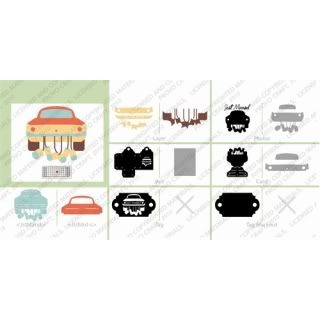 Here is your sample sheet. Now, before you get to looking too close at the sample sheet... it really does not do these images justice at all. Several of the images are cut in half for some reason, for example the rose in the top row, 5 over has two leaves on the right side too and the headphones in the fourth row, four from the right, has both ear pieces, not just the one that is pictured here. Just remember, this is exactly what it is titled to be... a samplesheet.
Here are your creative features for the WRAP IT UP Cartridge: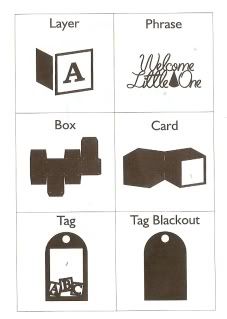 I received this cartridge just in time for my sister's wedding. As a wedding gift for her, I wanted to make her favors and was thrilled beyond belief when I discovered that this cartridge had a 'Favor' feature... okay, they call it a 'Box' feature. My sister used all white roses for her wedding and her colors were simply white and silver... so here are the favors that I made for her:
Cut at 4.5", I was able to cut 4 from one sheet of 12x12 cardstock. I used recycled acrylic plastic for the clear window on the inside, a small white satin ribbon bow and a tiny rhinestone in the center to give it that elegant touch.
I used Core'dinations Gemstone white, it has a pearly look to it. They were a great match to the bouquets that I also made for her.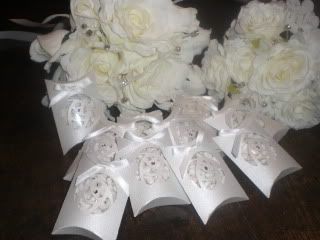 And I filled them with white wedding bells & dove sweettarts.
Made 60 of them total.
The wedding was this past weekend, so the professional photos from her photographers were not ready in time for today's post, but I promise to share them with you all later. And of course, she made a beautiful bride...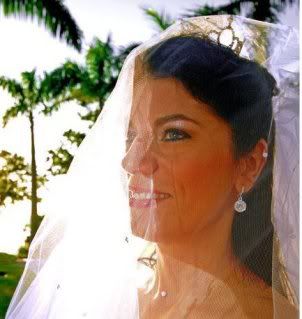 Don't forget that I am giving away a GYPSY bundled with a GYPSY A-Z DVD and 3 extra dvds!! Robyn, Melanie and Joy all have some giveaways on their blogs too:
Robyn -
http://www.mypinkstamper.com/
Melanie -
http://www.courtney-lane.blogspot.com/
Joy -
http://www.obsessedwithscrapbooking.com/
I'll be right back with more HELLO THURSDAY!
Tammy