Hello Everyone!
Thanks for all the support for THINK PINK week! It's been an emotional rollercoaster and so bizarre that not one, but two of our fellow blogger/cricuteers would have major surgery only one day apart DURING the week that Robyn and I were trying to bring awareness to the Breast Cancer cause. Thankfully both Brenda & Monique are doing well!
There are only TWO days left to purchase a gypsy and get it registered BEFORE midnight tomorrow night! Because starting on Monday, you will be able to update your gypsy and SIX new cartridges will be downloaded for FREE! Yep... I said FREE! Read more about this awesome
GYPSY PROMO HERE
... and yes, current gypsy owners are included in this promo!
One of the free cartridges that you get is the brand new SMILEY CARDS cartridge. OMG! I'm so XCITD about this CRZY cartridge! ROTFL! hehee Yes... you guessed it, this cartridge offers a full page of EMOTICONS and the sayings that go with them! It's definitely a QT PI cartridge! (SRY couldn't resist, LOL!)
Here are just a few cards that I made with this feature:
I had bought a package of cute notecards from the dollar section of Michaels a couple of months ago... no real plan for them, I was just attracted to the yellow strip and gray polka dots. Well, I wish I could go back and get more now because they are perfect for this cartridge!!
I just love the emoticons... and who doesn't need a 'SRY' card every now and then? I might need to make a bunch of these... you know... just in case. hehee
Same card base, but different emoticon...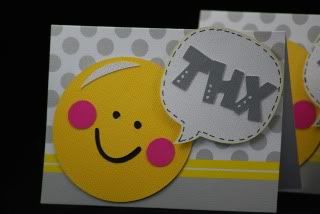 I'm always looking for cute and easy THANK YOU cards! They don't get any easier than this one... or cuter! The smiley was cut at 3.5" and has four easy layers, black, yellow, white & pink.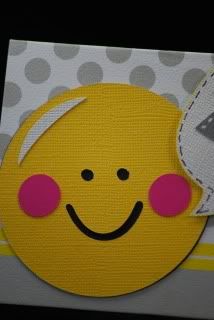 The THX was cut at 1" and the matching thought bubble was 1" also. Each of the emoticon phrases have a matching thought bubble and they are all different shapes and sizes, but are designed to be cut at the same size as the coordinating phrase so it will fit perfectly. Gotta love that!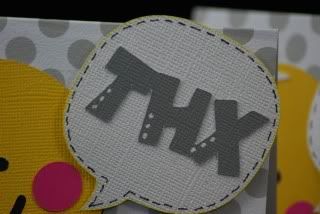 Well, I loved it so much... I made four of them! Hehee And they were all made out of my scrap drawer!
This just shows you that the emoticon doesn't alway have to be yellow! Isn't she adorable? This is my THINK PINK card that I'm sending to Angela's mom! She can use all the hugs she can get! Which reminds me, I want to thank everyone for all the kind comments for her and Angela yesterday... you all ROCK! We decided that Linda needs a RIBBON JAR, too, and several of you asked for her address so you can send her a card and ribbon too! Thanks!
Linda James
415 W. Myrtle Street
Winnsboro, TX 75494
She was cut at 4" which left no room for the thought bubble, so I just added the HUGS at the bottom.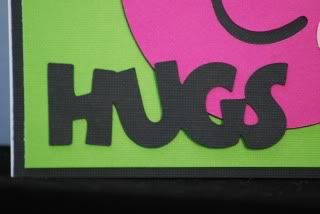 A green bow for her head and viola!... finished card!
Oh, I have more for you! Oh so much more from this cartridge, but that will be later today. In the meantime, you have got to go see what Robyn (
http://www.mypinkstamper.com/
) has made with SMILEY CARDS! I think that the 'OH SNAP' card is my favorite! What's yours?
Don't forget that you can still leave a comment to be eligible to win the PINK EXPRESSION and someone special who is either a Breast Cancer SURVIVOR or FIGHTER will win a PINK GYPSY BUNDLE! Comments will be closed at midnight Sunday (Halloween) CST and randomly drawn winners will be announced first thing Monday morning.
Have a great SATURDAY everyone!
Tammy