Hello Everyone!
Who doesn't love Sesame Street?! Now joining the SESAME STREET FRIENDS and SESAME STREET FONT is the new SESAME STREET SEASONS!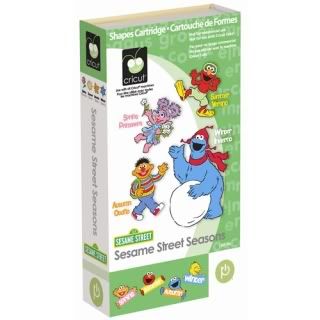 My kids are all grown up, but I have the cutest nephew ever (i think you will agree!) that I scrapbook photos of. Here is a 2pg layout that I did of him reading... or trying to read (lol, the book is upside down in the picture on the very right).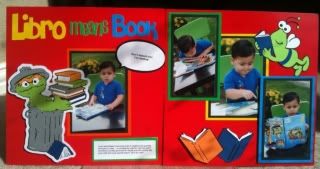 There is a WORD creative feature that does not include shadows for all the words, but the shift key will give the spanish version of the word. So, 'BOOK' was non-shift and 'LIBRO' was the shift for the same key. I cut the word 'means' on my gypsy with DON JUAN.
Paperpiecing is definitely part of the trademark cartridges and this one is no exception. This Oscar the Grouch was cut at 7", which I loved... but when I tried to cut it out at 5", there were a few pieces that were just too small to cut well.
My nephew loves to be read to, but he also loves to read himself! He's so smart!
Okay, like I said, my kids are all grown... so does anyone know what or who this character is? Kinda reminded me of a CRICUT! LOL! The stripe around the middle is optional and there are several of him/her throughout this cartridge in different colors. This one is found under the PROPS feature and was cut at 4.5". The PROPS images definitely layer up really nicely, not alot of small pieces.
Another PROPS image... these books are just too cute. Simple with only three pieces, I cut them out at 2" and flipped one on my Expression so it would be facing the other direction.
This cartridge is organized alot like the WRAP IT UP cartridge is, except the 'rows' are all coordinated by seasons... hence the name SESAME STREET SEASONS.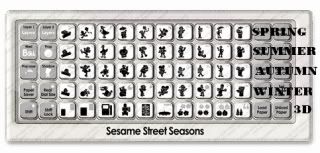 It has all your favorite Sesame Street characters on it...
But look closely at the bottom row of 3D objects...
That very first object is a flash card with a box to store the in. So not only does this cartridge feature the different seasons and would be great for teachers or daycare providers, but all the words have the english AND spanish, so you can make flashcards to teach your children to be bilingual! That is SO cool!
Don't forget that I am giving away a GYPSY bundled with a GYPSY A-Z DVD and 3 extra dvds!! Robyn, Melanie and Joy all have some giveaways on their blogs too:
Robyn - http://www.mypinkstamper.com/
Melanie - http://www.courtney-lane.blogspot.com/
Joy - http://www.obsessedwithscrapbooking.com/
Take care everyone! I will be showing you more with these cartridges over the next week and will post the winner of the Gypsy bundle first thing on Monday! I will overnight express at my expense the Gypsy to whoever wins it, so you can register it in time for the 6 free cartridges from Provocraft! And yes! All current Gypsy owners are eligible for this promotion, download will be available starting November 1st!
Cricutingly yours,