Hello Everyone!
Thanks for being soooo sooo patient today! We are releasing a little late today, but will carry over into tomorrow! Let's get started!!
Okay! Out of the SIX new Cricut Cartridges being announced today, the new QUARTER NOTE Cartridge is probably my FAVORITE! Wow! All three of my children are "Musically Inclined" in different ways. My oldest, Patch, plays both the saxophone and guitar, he also marched in his high school band. My daughter, Samantha has played the flute since she was in junior high and my youngest has been a member of his high school show choir for four years. These pictures are actually my son's senior pictures from 2006.... yes, I am that far behind. I actually made him a graduation scrapbook that he keeps and some of these pictures are in it, but never did the page for my family album for that year. I'm so happy I waited now! LOL!
This cartridge is going to so popular with all of the music people out there! Especially 'band moms'! I was one, so I know! But pair this cartridge up with HANNAH MONTANA (don't boo... its got a great musical endcap font!) or with WALL DECOR & MORE (everything is swirly) and you now have everything you need to decorate a music room, teen's room or make t-shirts, totes, the sky is the limit.
Another new style handbook... take a look at those FONTS!!! I am so excited about those fonts! I have tshirts in mind, car decals for my son, school spirit and more!
The QUARTER NOTE Cartridge not only has every possible instrument (some I can't even name!), but there is a whole page of welded words.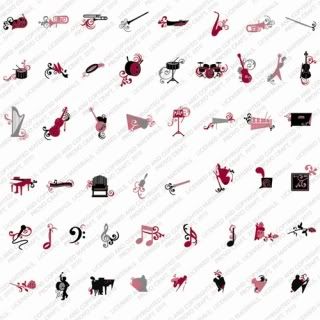 Back to my layout now... this is my son, Patch. Like I said, he plays both the saxophone and the guitar.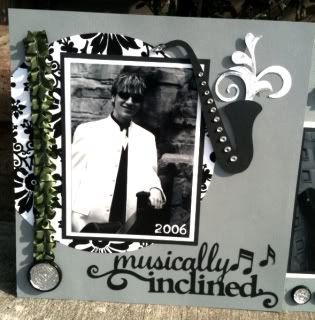 The PHRASE was cut at 3" with no shadow, don't worry... there is a a PHRASE SHADOW feature, I just wanted to keep the page simple and liked how it looked nestled at the bottom.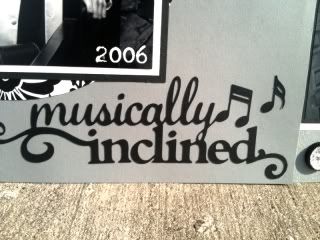 My favorite part... the saxophone. This BASE image was cut at 6" and is only two pieces (1 black and 1 white). The BASE images on this cartridge also have a SHADOW feature too, but again I did not use it for this piece. Instead, I blinged it up with silver glitter glue and rhinestones... not often you can get away with using 'bling' on a boy's page! LOL!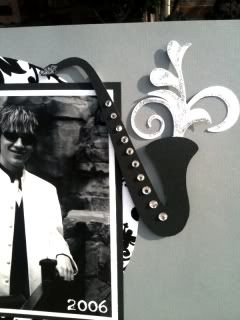 The only color on this totally black and white layout is the gathered forest green ribbon that I added silver glitter glue to and a black button (glittered it too) at the bottom.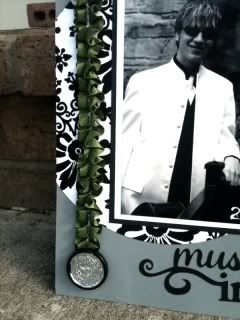 Incorporated the same ribbon/button design on the next page and left a blank black box on the right for my personal journaling.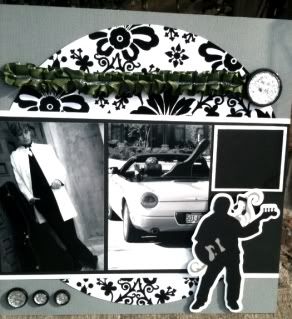 The GUITARMAN was cut at 5" and I cut all three pieces including the shadow for this one. I wanted to pop dot this image on my page and knew that those swirls were just too fine to do it without the shadow.
My final touch was three more black buttons that I filled with silver glitter glue. I like how they turned out and if you are familiar with the saxophone, you might think that these buttons look like the keys on the sax.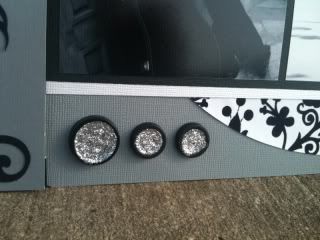 Don't forget that I am giving away a GYPSY bundled with a GYPSY A-Z DVD and 3 extra dvds!! Robyn, Melanie and Joy all have some giveaways on their blogs too:
Robyn -
http://www.mypinkstamper.com/
Melanie -
http://www.courtney-lane.blogspot.com/
Joy -
http://www.obsessedwithscrapbooking.com/
I'll be right back with more HELLO THURSDAY!
Tammy