Hello Everyone!
Are you ready for some football!? Or at least some football homecoming mums?! LOL! I loved all the comments yesterday... some of you knew what mums were, but most did not. So, I found this comedian from California who explains what a mum is from a 'non Texan' point of view, lol!!!
That video cracked me up! She's right too... you just have to see these things in person to really grasp the sheer size, lol! But, let me try to walk you through the process. First, comes the shopping... The trinkets are anywhere from .33 to 5.99 each and there are tons and tons to choose from. The ribbons are .75 to 4.99 per yard and that's just the basics!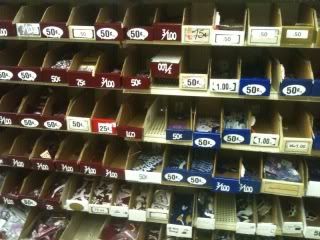 There are specific traditions that MUST be observed... for example, all the seniors' mums are all white. Everyone else's are the school colors, but the only color allowed in a seniors mum is gold or silver.
You can get away with the graduation cap and gown or just a touch of color, but it is suppose to be only white.
This zebra print mum was at the mum store and it is the first time I have ever seen a break in the traditional colors. I love it though and my daughter would have loved this one!
And there are absolutely no limits on size! Stacy, my son's best friend's mom, is standing next to this huge mum... it is to be worn like a breast plate and would swallow most high school girls whole! hehee
The other tradition is that the boys give their homecoming dates a mum that is pinned to her shirt and the girls give the guys a mum garter to be worn on their arm. During the mum season (also known as football season) mums can be found in many places... Michaels, Hobby Lobby, grocery stores, floral shops... you name it. And yes, they are pricey... some can cost up to $200!! Crazy, huh?! I have always made the mums for my kids and sometimes their friends. Not only is it much cheaper, but it's alot fun too.
So let's get started...
You need three of the round cardboard pieces, which you can purchase at the store OR cut them from PLANTIN SCHOOLBOOK! The size will depend on the size flower you are using. Then you cut ribbon in strips and start looping or twisting them and stapling them on.
Our school colors are Navy Blue, Gold and white... I just loved this navy blue zebra print.
I also made a smaller one for my nephew who is in 4th grade, his was mostly navy blue with a gold football in the center... he plays football for our little league.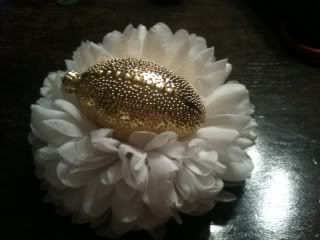 Adding stuffed animals to the center of the mum is very popular... the mum below is for my son's date.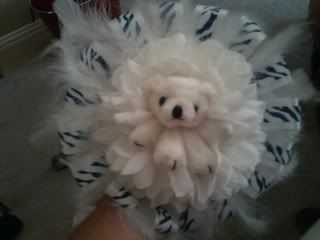 Now to start laying out all the ribbons and trinket strings...
Stacy is working on a mum for her son's date, Josie. These things can be so cumbersome that sometimes you just have to get on the floor with them! lol
Here is my friend, Leeanne, with the start of the mum garter that she is making for her daughter's boyfriend. We had a little mum-making party at my house, lol!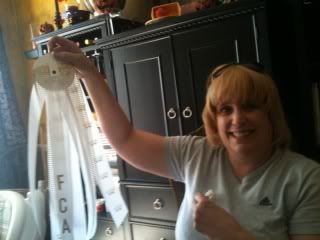 Here is my son, Matt, with his mum garter on his arm and the garter we made for his girlfriend on a hanger.I should have gotten some close up photos of the ribbons and all the cricut letters that I used for their names and spirit sayings and stuff. But, I was lucky to get this shot as he was rushing out of the house this morning... I mean, seriously! He had a busy schedule to stick to today!
Here's my nephew's mum... recognize the football on the window behind him? It was cut from SPORTS MANIA at 11" with white and brown vinyl.


The VARSITY CRICUT LITE CARTRIDGE is my absolute favorite cartridge for school related projects! It is available at Walmart for $39. I cut 'Jake' (very left side of mum) and 'Lobo' (very right side of mum) at 1" out of white vinyl.
Can't leave the moms out... I made these spirit ribbons with my nephews photo and name for my sister, mom and myself to wear to his game today! His little brother, Elijah, isn't playing football yet, but he will! So, of course, my sister needed a ribbon for him too! :-) Again, VARSITY was used for this project too.
Well... that's what Texas Homecoming Mums are all about! I made my first mum years ago when my oldest was a Sophomore and my daughter was in Jr High. Since my youngest son is a senior, this was the last time I will be making homecoming mums... I'm gonna miss it!
Cricutingly yours,
Tammy