Hello Everyone! Wow, what a busy week I had!! I was neck deep in getting ready for my WILD ABOUT U Cricut Retreat when all of a sudden I decided to apply (and got) a part time job as a demonstrator for Provocraft! There was tons of paperwork, notarized I-9 and yes, a drug test to be done... but I also got all this done too:
WELCOME TREATS
Everyone got black & zebra cardstock from GLITZ, a little black bucket filled with several goodies and a nametag made from PLANTIN SCHOOLBOOK.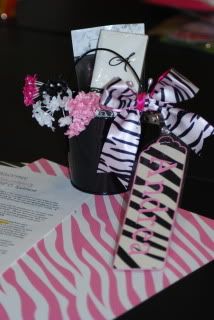 I am guest designer over at
THE BUG BYTES
today. I made a video on how to make these nametags with either the cricut OR the gypsy... and yes, those with the baby bug can make this project too! Click
HERE
to see it!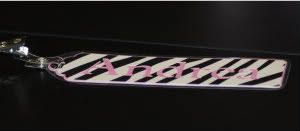 Water Bottle Flavor Pouches
Made with the TAGS, BAGS, BOXES & MORE cartridge (you better get it before they run out... it's retiring!). I used the door hanger image (7") with the mirror image feature. Folded it in half to form the pocket.
Cut 2"x10" strips of coordinating cardstock to wrap around the water bottles.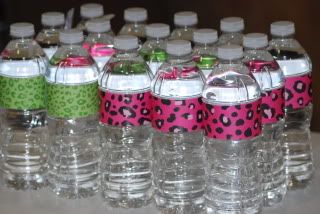 Cuttlebugged the pink cardstock with the PAISLEY embossing folder... love that one!
Welded the word WILD using the DON JUAN font on my Gypsy.
And that cute little strawberry is from HELLO KITTY GREETINGS!
The flavor pouch tucked inside is a Crystal Light WILD Strawberry that is good for ENERGY! Perfect for all my guests at a cricut retreat. These were waiting on their desks when they woke up on Saturday morning.
Speaking of those guests... please say "HELLO" to one of the best groups I have ever had the pleasure to crop with!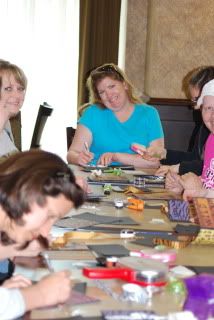 and of course, my crazy bff... Angela (Creative Critter) Firefly
Thanks for stopping by today! You know I appreciate each and every one of you! I got several emails from those of you who have applied for the PC Demonstrator Job (CONGRATULATIONS!) and I promise to answer everyone today... I'm still playing 'catch up' on my very long to-do list! Thanks for understanding! I am so excited about the training in Chicago! But, before I can loose all control, I must get ready for my FAB FRIDAY TV post over on the CUTTLEBUG CHALLENGE BLOG among all the posts I have planned for my own personal blog! Okay... okay... it's gonna be another busy week! So, what's new? :-)
Take care everyone!

Tammy