Hello Everyone!
I'm still featuring PLANTIN SCHOOLBOOK and today I have a couple of cards that really showcase the fonts on this cartridge. I know it is only April... but I have 11 family/friends graduating this year, so I'm getting a jumpstart on my graduation cards. This colorful card is one that I made last year (hence the 2009, lol!). Simple design, A2 card... four squares of bright colors (can change to school colors) with the numbers from PLANTIN SCHOOLBOOK.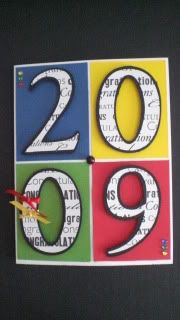 The numbers were cut out at 2" and shadowed in black. Then pop dotted onto the card.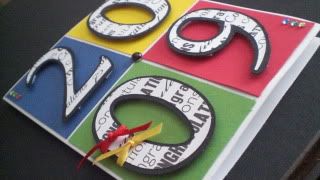 I print all my sentiments on Georgia Pacific cardstock from Walmart.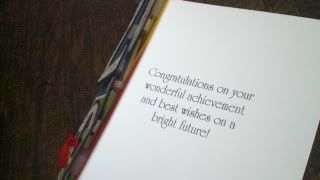 I stuck with my trusty ole' PLANTIN SCHOOLBOOK for this years batch of cards too. And chose the school's colors for my designs. Plantin actually offers 5 different fonts (six counting the end caps).
1 - Plantin Schoolbook Base font
2 - Tall Ball
3 - Italic
4 - Roly Poly
5 - Plantin Schoolbook Shadow font
Did you know that PLANTIN SCHOOLBOOK also has 5 cards with matching envelopes? Yep... it does! This is the base image card (KEY57) that has stitching cut out of the right edge of the front of the card (click on the picture above and you will see it more clearly).
The card was cut out at 6" because that was the largest I could get my matching envelope to cut out at. Little tip: ALWAYS cut the envelope FIT TO PAGE first, thereby allowing it to determine the size of your card. The lowercase letter 'G' is also from PLANTIN SCHOOLBOOK. It is the base font with a black shadow and both were cut out at 3".
The rest of the word 'graduation' was printed from my computer (font: BaaBookHmdBold) along with the 'Class of 2010'. It wouldn't be me if I didn't use CENTERPOINT to cut my star. There are also 5 different stars on PLANTIN SCHOOLBOOK. This one was cut at 2" using the ROLY POLY font feature, then I cut the star out in black at 2.25" so it would shadow my white star. A little stitching with a black pen and viola! Ready to be pop dotted on my card.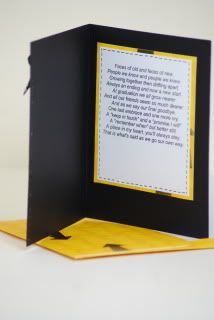 More graduation sentiments inside and I made an envelope (6") to match. The card below is a standard A2 size card.
I did some 'real' stitching on my sewng machine for the star cardstock and the solid yellow cardstock. The year '2010' was cut at 1.5" using the ROLY POLY font on PLANTIN SCHOOLBOOK, then the sentiment inside (again from my computer).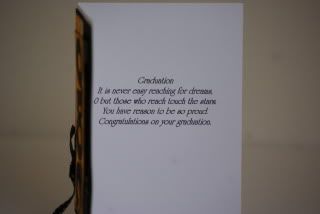 Not everyone requires a 'card' for graduation... some just want/need cold hard cash! Well, this envelope is shift KEY57 using the ITALIC feature on PLANTIN SCHOOLBOOK. And if you cut it out at 5.75", it will hold money quite nicely. A strip of scrap white cardstock was added to the front and the name was cut at 2" using the TALL BALL font on PLANTIN SCHOOLBOOK... cute, huh?
Shhh... Debbie & Cheri... don't tell Aaron what he's getting from us for graduation! LOL!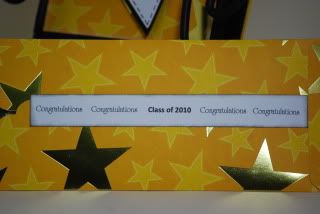 I simply added a 'congratulations' strip to the back of my envelope and added the money... EASY PEASY!
Well, that is a cute collection of graduation cards (yippee... I'm ahead of the game this year!) all made with the PLANTIN SCHOOLBOOK. So, if you are one of those wondering how you can be creative when you don't have many cartridges... this is all you need. These designs fit for any occasion... birthday, anniversary, thank you... you name it. Just by changing the letter or number, you can customize it!
Last, but not least... click
HERE
to download my graduation sentiments... hope you like them!
Cricutingly yours,

Tammy