Hello Everyone!
Wow... back from Chicago and spent Monday catching up on everything! Before I get into the 'meat' of this post... I just want to say THANK YOU not only to ASM Campaigners and Provocraft, but to all the other demonstrators who stopped me and 'thanked' me for my blog! It was so nice to know that so many actually do read my blog and appreciate it! I also want to thank the 'Cricut Mafia' for such a fun weekend... you gals are a hoot! And my forever bff, Angela and new bff, Myrel!
We got a sneak peek at the new Gypsy update that will hopefully be released soon! No date yet... but know this... we saw it working and in action and IT ROCKS! The photos below were taken during our Gypsy training in Chicago (thx Myrel!!) of the gypsy screen that was projected onto a large screen.
FIRST UPDATE: Notice the numbers above and up the side of the virtual 6"x12" mat. They numbered the squares to make it easier for us to place our paper on the mats to coincide with the images on the virtual gypsy mat! LOVE IT!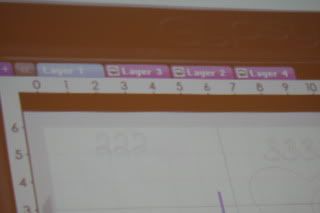 SECOND UPDATE: Look at the tabs above the screen that are labeled Layer 1, Layer 2, Layer 3 and Layer 4. Those are now the multiple pages and it is difficult to see in these photos, but there is a little eyeball next to each one that allows you to TURN OFF THE TRANSPARENCY so that you don't all the images on all the mats at one time! REALLY LOVE IT!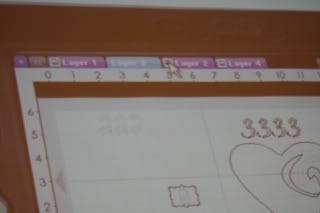 THIRD (and most important) UPDATE: We will soon have HIDDEN CONTOUR! It was demonstrated and is so cool! You will be able to toggle through an image to select what you want to hide or use your stylus to choose. Notice the heart above and the center swirls... the middle one has been hidden. NOW DOES THAT ROCK OR WHAT!!
This information was given to the 200 plus demonstrators in the Chicago training and we weren't told that it was top secret or anything. We also do not know for sure if it will be in the next HELLO THURSDAY update or not (got my fingers crossed!). But, I for one, am just tickled pink that it is in the works!
I also wanted to quickly add that for those of you who threw away the cardboard inserts that came in your cricut... (like me)... not to worry! Christy suggested bubble wrap because that's what she does. I have updated that post to answer some of the questions I got concerning traveling with your cricut
HERE
.
Well, that's it for today! I will be featuring WALK IN MY GARDEN for the rest of the week, because it is the theme for our cricut retreat this weekend! Another sold out retreat, it should be really fun! Oh! And I get my Cricut Cake on Thursday! Can't wait for that!
Cricutingly yours,
Tammy