Hello Everyone! Chicago is great! Of course we haven't left the airport... the hotel we are staying at is actually in the O'Hare airport! There was, however, a group of 30 some odd ladies who rented a limo and took at trip to the Windy City scrapbook store last night... how fun does that sound?! Angela and I stayed in the hotel and had a private watching party of the GYPSY A-Z dvd in our room! That was fun too! But earlier in the evening we inprocessed and got our binders...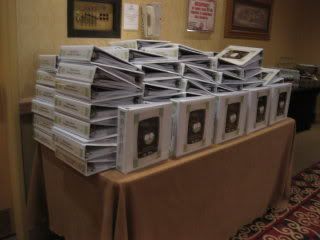 ...a gypsy to demo with...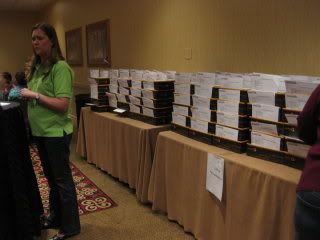 And our polo shirts! Thats me, Angela and Myrel getting our shirts and I want to say thank you to Tonia from Provocraft for taking these pictures!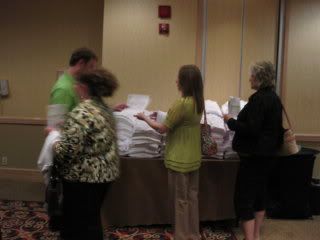 Today was a full day of training. ASM Campaigners & Provocraft have really outdone themselves and treated us like royalty! Everyone got their own hotel room (Angela & requested to room together though... cause that's what bffs do!) and they provided breakfast, lunch and dinner for us today! This morning started with Ryan from Provocraft welcoming us.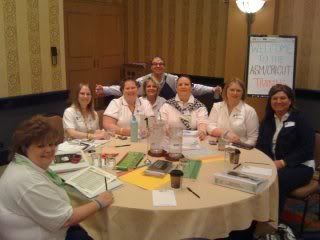 Then Christy from Provocraft started our training with the Cricut Expression. Loved it! And I learned a couple of new things... imagine that!
1. While you shouldn't hotswap (take carts in and out while still on) with the original cricut, it will not hurt the cricut expression!
2. Doesn't matter which side of the plastic cover for the sticky mats you use... they are both the same!
3. The PROPER way to transport your cricut is with the blade housing pulled into the center of the cricut and the two cardboard box inserts securely on each side... like this...
UPDATE: Notice that the housing is in the center... power off your cricut and manually move the housing to the center. Take the blade housing out and if you no longer have those cardboard inserts, then just use bubble wrap. This is for a cricut that will be taken on a flight or travels alot like the ones that us demonstrators will be using. Hope that helps!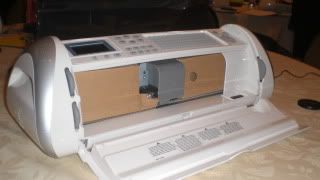 Here's a quick video telling you what I'm talking about.
We've got another full day of training today and they are taking us all out for Chicago pizza later tonight! Can't wait! I'll be back tomorrow with more on what's going on in Chicago!!
Cricutingly yours,
Tammy